Well done to everyone who's survived the first two weeks of remote learning: hats off to students who've got motivated to complete work at home; to teachers who've kept on top of remote learning whilst managing family commitments and to parents who've stepped up to motivate and support students learning at home. What an unusual Easter school holiday this is!
Two weeks ago, I launched the first ever live.withcode.uk python remote learning live coding session on YouTube. My audio was far too quiet (or not quiet enough for some of my students!) but last week saw the first ever competition teaming up with Mr Tait from All Saints.

The idea is for each video to link to a choice of 4 free online remote learning activities to help students grow in confidence and experience with python programming. Thanks to everyone who has fed back about how to make the resources easier to access: we now have a new website where you can find all the links on once place for each episode: live.withcode.uk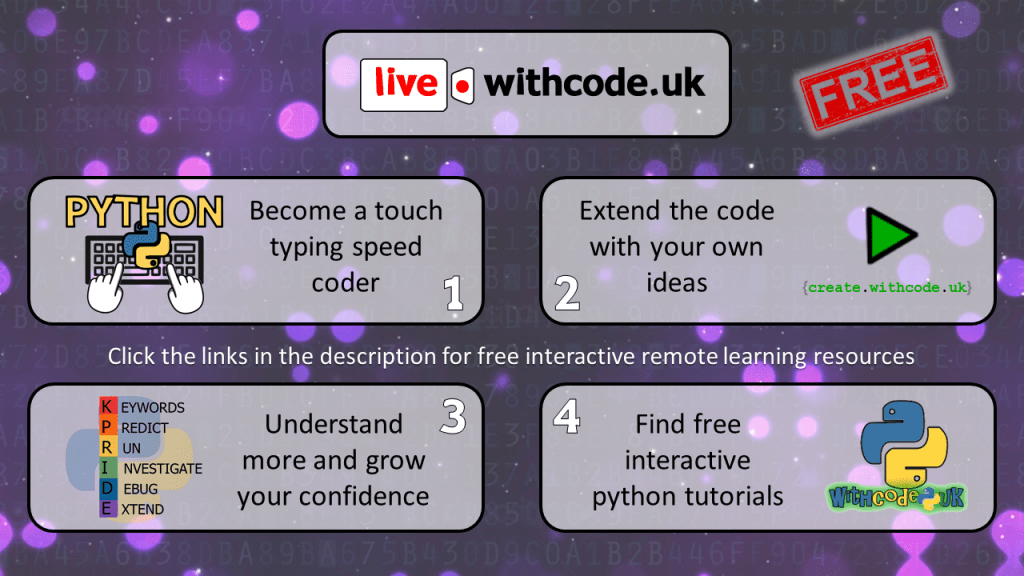 The next stage is to set up a scoreboard so students can compete against each other and teachers can monitor their progress as they complete the activities.
For that, I would really like some help from computing teachers who are willing to try out the new features and / or feedback how to improve the weekly content. All the resources will remain free and available but I need some volunteers to help set up competitions.
This week's prizes are all go to students at my school for the debugging competition but I've secured some funding to open it up to other schools.
If you're willing to help (or know someone who might be), please get them to sign up here: bit.ly/livewithcode
Thank you!