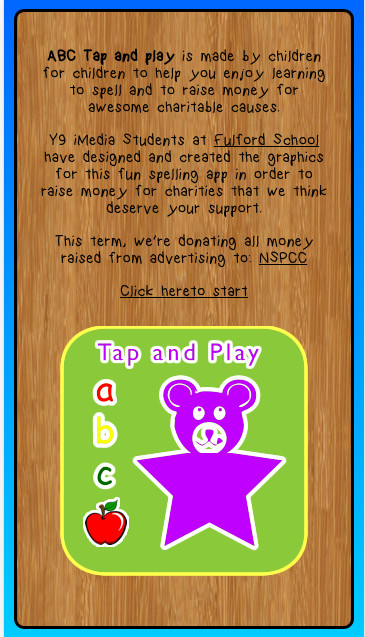 How does ABC Tap And Play raise money for charity?
ABC Tap And Play is a fun spelling game that you can play online or download as an app for any android device. It raises money for charities that my students have chosen in two ways. For both of these ways, I've explained how you can give to charity without actually paying a penny:
Advertising revenue:
You can play the game for free at abc.tapandplay.uk without having to download the app, but this web version contains adverts in the top right corner. All money raised (after Google's taken their cut) is donated to a charity that students have chosen. Students had to research and prepare a presentation to try to persuade the  rest of the class to vote for their chosen charity by explaining what they do and why that's important to them. This term we're supporting NSPCC but there'll be a different charity for each term until the Y9 class involved take their GCSE exams and leave school.
How much does it earn?

The website abc.tapandplay.uk went live with the graphics that students had designed just before the Christmas holidays in December 2016. So far (as of 29th December 2016) adverts have raised £3.49 for NSPCC. We need to raise £60 before Google will send us any money, then I'll write a cheque or transfer money online to the charity the students have chosen.

Google pays a fraction of a penny every time an advert is displayed. This is called an 'impression'. Based on the (limited) current stats from Google, the adverts on abc.tapandplay.uk raise around around £1 for every 1,000 people who see the advert, so that's 0.1p every time someone sees an advert. That's a tiny amount but it's unlikely to stay that high – we'll see.

More significantly, Google pays a larger sum (currently around £0.69) whenever someone clicks on an advert. The amount paid depends on the type of advert. Adverts shown are likely to be based on your viewing history because of the way Google and other advertises use cookies to track which sites you visit and what products you search for. I've blocked advert categories that I think are unsuitable for children, but please let me know if anything offensive comes up.
Please don't just click on adverts on ABC Tap And Play unless you're interested in what the advert shows. Definitely don't click on an advert more than once – that's against the terms of service and may mean Google blocks our app or refuse to pay.
But, next time you see an irritating advert online for something you're interested in, remember that clicking on it supports the site that you're viewing, or in this case, clicking on adverts on abc.tapandplay.uk raises money for charity without actually costing you a penny.
App sales:
After much debate in class with my y9 designers, we decided to sell the app in the Google Play store for £0.59 for an ad-free version of the game. The class was split on whether to publish in the Apple App Store or Google's Play Store for Android devices. Ultimately though, it's too expensive for us to go down the Apple route:
To publish an app in the Apple Store you have to pay $99 per year to register as a developer. This tends to filter out the hobbyist developers so the  quality of apps in the Apple store is arguably higher but it's a shame that it prevents students (and teachers!) from getting started.
To publish an app in the Android Play Store you have to pay a one-off fee of $25 which is much more affordable. I've already paid this and so was happy to absorb this cost for ABC Tap And Play.
Once you've registered as a developer it's free to publish an app as long as it's approved (which means someone checks to make sure it's not blatantly breaking any laws such as copyright or trademark infringement).
Students also researched web domain names for the online web-based version of the game before settling on abc.tapandplay.uk. We registered this for £0.01 from GoDaddy although we had to pay a little more for the second year. As well as a domain name, we needed a web server to host the game so we're using Amazon's EC2 cloud computing service which is free for a year. It's not the easiest thing to set up but it's a great learning experience for students.
How much does it earn?

ABC Tap And Play is listed in the Play Store for £0.59. This is how much it costs to download, after which point you've got 2 hours to try it out whilst you're entitled to a full refund if you don't like it. Once you've paid, you get to keep the app and play it on any android device that is registered to the account that you used to purchase the app.

Prices in the Play Store include VAT which in the UK is currently 20%. Google then takes 30% leaving 70% after tax for the developer.

For ABC Tap And Play, for each download costing £0.59:

12p goes to the government as VAT (20%)
14p goes to Google for their 30% cut
33p gets sent to the developer (me) at the end of each month. All of this gets given to the charity that my y9s have chosen for that school term (which is currently NSPCC)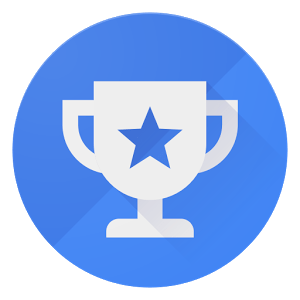 How can I get it for free?
If you want to buy this (or any other) app for free, you can earn credit to spend in the Google Play by downloading the Google Opinion Rewards app. Every now and then it pops up to tell you that a micro-survey is available and you can earn between £0.10 – £0.80 by answering a couple of quick questions. In order to earn enough to buy ABC Tap And Play for free (£0.59 in Play Store credits) you'd have to answer two or three mini surveys, each with 1-3 questions.
Whilst this is a great way to get 'free money', you have to be careful how much information you're giving away and who you're giving it to. You tend to get questions about shops and restaurants after you go to them (as long as mobile data and location sensing is enabled on your phone whilst you're there) so only fill in the surveys if you're happy with Google collecting that data about you. It'd be interesting to discuss this with your family / teacher / class / friends to see if you think this is a good thing (helping people find products they want more easily) or a bad thing (big companies spying on their customers).